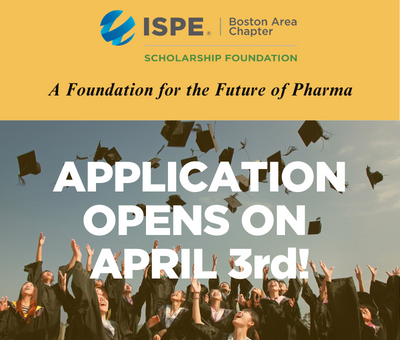 Scholarship Application Opens on April 3rd!
Are you interested in pursuing a career in biotechnology and pharmaceutical manufacturing? Are you an undergrad or grad student enrolled in an accredited college or university located in New England or the Albany/Schenectady area? Are you pursuing a certification or an associate, bachelor, master or a doctoral degree in any of the STEM (Science, Technology, Engineering, or Mathematics) disciplines?  Do you need help with the high cost of education? If this describes you, then apply for the opportunity to win a Joel Goldenberg Memorial Scholarship.
Again this year, the Boston Area Chapter Scholarship Foundation is offering three major awards:
One (1) Undergraduate Scholarship for applicants in a four-year program (eligibility is for incoming freshmen through senior year of undergraduate study) at up to $20,000
One (1) Scholarship for applicants enrolled in a two-year associate degree or certification program at up to $10,000
One (1) Scholarship for applicants enrolled in a Master's or Doctoral program at up to $10,000
Each scholarship award will cover the academic year with two disbursements (one payment per semester), subject to acceptable academic performance and no changes in the recipient's career or study plans. (The recipient will need to supply the scholarship award committee with a transcript and a signed letter confirming that there have been no changes in their career or field of study to receive the second disbursement.)
The Foundation also provides support for individuals seeking help with tuition for career development continuing education courses.
The application period for the 2023-2024 scholastic year opens on Monday, April 3rd and closes on Friday, June 1st at midnight. Winners will be notified on August 1st. You must be a member of ISPE in good standing to apply. Not a member yet? Join online here: www.ISPE.org/join.
If you are interested in a career in biotechnology and pharmaceutical manufacturing, apply for a scholarship. Join the fight and become the Future of Pharma. Apply online at https://www.ispebcsf.org/scholarships/application/.